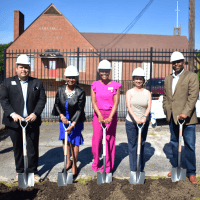 Scottdale Early Learning recently hosted a groundbreaking ceremony for Phase 2 renovations at its Midway Woods in Decatur. Projects include a Pre-K/pre-school playground, the removal of a retaining wall, and other infrastructure improvements. A new roof, which is part of the renovations, was successfully completed in January 2023.
"Scottdale has been impacting the lives of children and their families since 1977 through our centers and community-based programs," said Executive Director Virginia Baker. "Thank you to the DeKalb County Community Development for funding these renovations, which will allow our children to have a safe place to grow and explore. This is key in helping us obtain NAEYC (National Association for the Education of Young Children) accreditation like our Warren Avenue Center."
Scottdale Early Learning at Midway Woods opened in January 2020 just before the pandemic as Phase 1 of the Growing Above and Beyond Campaign. The soon-to-be three-star Quality Rated building houses six classrooms that serve children ages six weeks to five years of age.
Many thanks to the following program participants:
Virginia Baker, Scottdale Early Learning Executive Director
Larry Johnson, DeKalb County District 3 Commissioner
LaQuanta Presley, DeKalb County Community Development Department
Natasha Dowell, Reinvestment Fund
Dr. Michael Hatcher, Sovereign Construction
Cara Schroeder, Fundraising Consultant, Schroeder Resources
Viveka Bizzell-Palmer, Scottdale Early Learning Board Chair